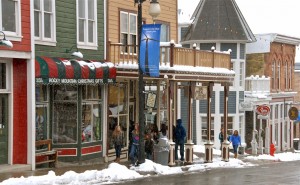 2011 SALES TOP ONE BILLION AGAIN! That's pretty impressive for a small town in the mountains. It also means inventory levels are slowly decreasing which will eventually stabilize and even increase pricing. That said, with the exception of single family homes, we still see some downward pressure on current property values. The good news is that the number of transactions is up which reflects continued interest in owning a home in Park City at some of the most reasonable prices in many years.
SINGLE FAMILY DETACHED HOUSING. It's up in three categories; number of transactions, sold volume and average sales price. This could be another sign that we are either near or at the bottom of the market.
TOURISM AND SKIIER DAYS. The news this winter is very promising. Some hotels and lodging companies are reporting bookings that are up 30 per cent over last season! Overnight lodging rates appear to have stabilized and in some cases, actually increased. Further, there seems to be a resurgence in the number of high end visitors which is good news for Park City's luxury resort properties.
DEER VALLEY REAL ESTATE. The number of sold transactions, average sold price and volume were down in 2011 but winter is shaping up to be much more active. As Deer Valley is primarily populated by vacation homes, the recovery in this sector is lagging primary residences. Four new projects in Deer Valley still have several developer units available; Silver Strike, Flagstaff, The St. Regis and The Montage.
THE CANYONS. Utah's largest ski and snowboard destination still has excess condominium inventory.  However, the newest developments are now finished to a very high standard and will ultimately sell for the right price. In the meantime, Talisker's ownership of the resort has brought great improvements for the future and there's now talk of someday linking The Canyons to Solitude Ski Resort on the other side of the mountain. Stay tuned for more details.
WHAT DOES THE FUTURE HOLD FOR THE PARK CITY REAL ESTATE MARKET?  We will see a continued slow recovery through 2012.  It is very hard for anyone to project when the U.S. economy and housing market will start showing more significant signs of healing.  With the entire world going through historical economic changes, there is still much we don't know about what it is going to take to get things turned around.
PARK CITY IS FORTUNATE. We continually hear that people come here for several reasons; it's easy to get to, our quality of life is second to none, the schools are the best in the state, we are blessed with an abundance of beauty and recreational opportunities. A number of clients have told us they are tired of playing the stock market and want to invest in their lifestyle and families. Owning a home here is not just a real estate hedge against inflation, it's an investment in their family's enjoyment.
INTEREST RATES. We all know that mortgage rates are at historic lows. But qualifying remains a challenge and until banks make financing available to more buyers, we believe consumer confidence will remain tepid. About half of all buyers now purchase homes here with cash.
IN THE MEANTIME. What a great place to visit and eventually call home. There's no place better to weather the unknowns of our current recessionary times than on a beautiful mountain with the world below.